3M Scotch VHB mounting tapes
Bonding product parts with precision, ease, reliability, and strength requires an approach that breaks the barriers of traditional construction elements. 3M VHB Tapes open up a world of possibilities – eliminating rivets, screws, bolts, and welds – and improving design construction, aesthetics and productivity. The base material of the tape is a homogeneous and durable foamed acrylic mass with a "memory" effect. It fills the unevenness of the surfaces, ensuring maximum gluing area, and quickly returns to its original state in case of deformation. With unmatched strength, these tapes increase the overall durability and reliability of every product bond.
| | | | |
| --- | --- | --- | --- |
| | | | |
| 3M VHB 4941 family – for the most demanding tasks. Suitable for PVC | 3M VHB 5952 family – for powder coated surfaces | 3M VHB RP family – high quality bonding at a reasonable price | 3M VHB LSE family – universal tape for plastics. NEW!!! |
| 4926, 4936, 4941, 4956, 4991 | 5915, 5925, 5930, 5952, 5962 | RP16, RP25, RP32, RP45, RP62 | LSE-060, LSE-110, LSE-160. |
|   |   |   |   |
| | | | |
| 4950 family – ultra-strong tape for metal structures | 4910 family – transparent tape | GPH family – heat-resistant economical tape for powder coating | 4943 family- bonds to a cold surface |
| 4920, 4930, 4950, 4912, 4959 | 4905, 4910, 4915 | GPH-060, GPH-110, GPH-160 | 4943, 4957 |
Technical data sheet of 3M™ VHB™ Tape Products
here
.
Benefits
Recommendations
Video
VHB Tape Features & Benefits
Performance
Bonding product parts with precision, ease, reliability, and strength requires an approach that breaks the barriers of traditional construction elements. 3M VHB Tapes open up a world of possibilities – eliminating rivets, screws, bolts, and welds – and improving design construction, aesthetics and productivity. With unmatched strength, these tapes increase the overall durability and reliability of every product bond. The alternate to spot welds, screws, rivets and liquid adhesives – 3M™ VHB™ Tapes have revolutionized performance benchmarks, while ensuring durability and excellence in performance for both indoor and outdoor applications. Fills irregularities and gaps between surfaces to prevent dirt, water and cleaning chemicals – wide range of thicknesses.
Productivity:
3M™ VHB™ Tapes increases productivity, cost-effectively – easy to use, versatile, decreased production time and eliminates the need for any major equipment. Eliminates time consuming labor – drilling, grinding, refinishing, screwing, welding, and clean-up. Easy to use – requires minimal application training. Bonds metal and most plastics – requires minimal surface preparation.
Appearance:
3M™ VHB™ Tapes provide a smooth, clean and enhanced design – assuring an invisible bond that expands material options. Elastic properties absorb shock and flexing for reliability – wind, vibration and thermal expansion/contraction. Solvent and chemical resistance. UV resistance. Temperature cycling resistance. Tape separates metal surfaces, reducing galvanic corrosion. Resists plasticizer migration.
Design and Tape Selection Considerations
Choose the right tape for the substrate: Adhesives must flow onto the substrate surfaces in order to achieve intimate contact area and allow the molecular force of attraction to develop. The degree of flow of the adhesive on the substrate is largely determined by the surface energy of the substrate.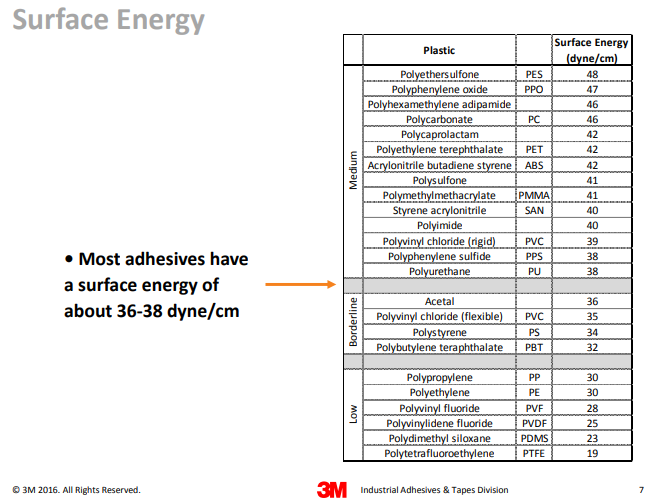 Use the right tape thickness: The necessary thickness of tape depends on the rigidity of substrates and their flatness irregularity. While the 3M VHB tapes will conform to a certain amount of irregularity, they will not flow to fill gaps between the materials. For bonding rigid materials with normal flatness, consider use of tapes with thickness of 45 mils (1.1 mm) or greater. As the substrate flexibility increases thinner tapes can be considered.
Use the right amount of tape: Because 3M VHB Tapes are viscoelastic by nature their strength and stiffness is a function of the rate at which they are stressed. They behave stronger with relatively faster rate of stressload (dynamic stresses) and will tend to show creep behavior with stressload acting over a long period of time (static stresses). As a general rule, for static loads, approximately four square inches of tape should be used for each pound (57 cm2 of tape per kg) of weight to be supported in order to prevent excessive creep. For dynamic loads, the dynamic performance characteristics provided on TDS page 4 should be useful, factoring in the appropriate safety factors.
Allow for thermal expansion/contraction: 3M VHB Tapes can perform well in applications where two bonded surfaces may expand and contract differentially. Assuming good adhesion to the substrates, the tapes can typically tolerate differential movement in the shear plane up to 3 times theirthickness.
Bond Flexibility: While an advantage for many applications where allowing differential movement is a benefit, the tape bonds are typically more flexible than alternative bonding methods. Suitable design modifications or periodic use of rigid fasteners or adhesives may be needed if additional stiffness is required.
Severe Cold Temperature: Applications which require performance at severe cold temperatures must be thoroughly evaluated by the user if the intended use will subject the tape product to high impact stresses. A technical bulletin 3M VHB TapeCold Temperature Performance (70-0707-3991-0) is available for additional information.
Application Techniques
Clean: Most substrates are best prepared by cleaning with a 50:50 mixture of isopropyl alcohol (IPA*) and water prior to applying 3M VHB Tapes.
Exceptions to the general procedure that may require additional surface preparation include:
• Heavy Oils: A degreaser or solvent-based cleaner may be required to remove heavy oil or grease from a surface and should be followed by cleaning with IPA/water.
• Abrasion: Abrading a surface, followed by cleaning with IPA/water, can remove heavy dirt or oxidation and can increase surface area to improve adhesion. Abrasion is not suggested with 3M VHB Tapes 4932 and 4952.
• Adhesion Promoters: Priming a surface can significantly improve initial and ultimate adhesion to many materials such as plastics and paints.
• Porous surfaces: Most porous and fibered materials such as wood, particleboard, concrete, etc. need to be sealed to provide a unified surface.
• Unique Materials: Special surface preparation may be needed for glass and glass-like materials, copper and copper containing metals, and plastics or rubber that contain components that migrate (e.g. plasticizers). Refer to 3M Technical Bulletin Surface Preparation for 3M VHB Tape Applications for additional details and suggestions. (70-0704-8701-5)
• Pressure: Bond strength is dependent upon the amount of adhesive-to-surface contact developed. Firm application pressure develops better adhesive contact and helps improve bond strength. Typically, good surface contact can be attained by applying enough pressure to insure that the tape experiences approximately 15 psi (100 kPa) pressure. Either roller or platen pressure can be used. Note that rigid surfacesmay require 2 or 3 times that much pressure to make the tape experience 15 psi.
• Temperature: Ideal application temperature range is 70°F to 100°F (21°C to 38°C). Pressure sensitive adhesives use viscous flow to achieve substrate contact area. Minimum suggested application temperatures:
• 50°F (10°C): 3M™ VHB™ Tapes 4950, 4910, 4611, 4622 families.
• 60°F (15°C): 3M™ VHB™ Tape 4945 family.
• 32°F (0°C): 3M™ VHB™ Tape LSE or 4951 family (Note: Surface must be frost free).
Note: Initial tape application to surfaces at temperatures below these suggested minimums is not recommended because the adhesive becomes too firm to adhere readily. However, once properly applied, low temperature holding is generally satisfactory. To obtain good performance with all 3M VHB Tapes, it is important to ensure that the surfaces are dry and free of condensed moisture.
Time: After application, the bond strength will increase as the adhesive flows onto the surface (also referred to as "wetout"). At room temperature approximately 50% of ultimate bond strength will be achieved after 20 minutes, 90% after 24 hours and 100% after 72 hours. This flow is faster at higher temperatures and slower at lower temperatures. Ultimate bond strength can be achieved more quickly (and in some cases bond strength can be increased) by exposure of the bond to elevated temperatures (e.g.150°F[66°C] for 1 hour). This can provide better adhesive wetout on to the substrates. Abrasion of the surfaces or the use of primers/ adhesion promoters can also have the effect of increasing bond strength and achieving ultimate bond strength more quickly.
3M Scotch VHB mounting tapes
3M Scotch VHB mounting tapes